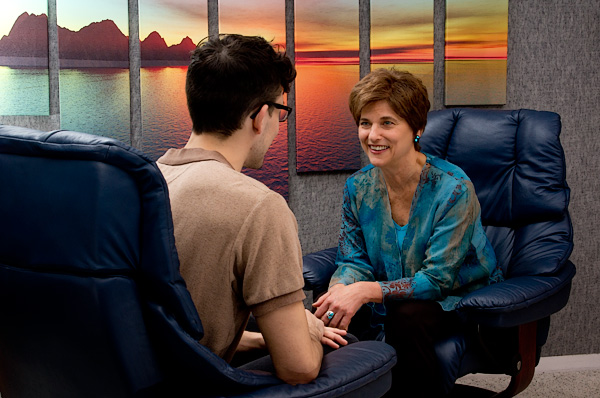 Frequently Asked Questions
People often wonder what therapy is like, how it works, and whether it works. Here are some questions and answers that may make you more comfortable contacting us for help. Although we provide psychotherapy, counseling, therapy and life coaching in Fort Collins, we also have clients elsewhere who work with us remotely by phone, Skype and FaceTime.
1. Why do I need therapy - why can't I do it myself?
American culture is famous for promoting the "independent, pull-yourself-up-by-the-bootstraps" philosophy. Is it any wonder that so many people believe they should be able to fix all their problems themselves? Perhaps they believe that asking for help means they are weak or somehow inferior. The reality is, no one can do everything alone. In fact, it takes more strength and courage to ask for help than to "tough it out" on your own. Working with a therapist requires you to face your problems and your weaknesses, as well as your strengths. Many people either exaggerate their strengths or are only able to focus on their weaknesses. A good therapist will help you identify your denial and face the truth. When people try to fix their emotional issues on their own they typically go round and round with the same thoughts and beliefs. A therapist can offer new ways to think and teach you to interrupt your habitual patterns. There is no question that therapy is the more difficult, painful way to go, and it is only recommended for people who want to make real, deep, lasting changes. There is a wonderful book about this topic called The Road Less Traveled: A New Psychology of Love, Traditional Values, and Spiritual Growth, by M. Scott Peck, M.D.
2. Am I sick? Am I a bad person? Am I crazy?
Many people have grown up with the idea that anyone who needs therapy is sick, bad or crazy. This is wrong thinking! In general, people who are sick, bad or crazy are not interested in getting therapy. The fact that you are reading these questions on this website and are considering getting help means that you are NOT sick, bad or crazy. Everyone sometimes experiences thoughts and exhibits behaviors that are not so good. When those thoughts or behaviors are causing problems with life, it just means you need help to figure out what's causing them and what to do to change them.
3. What kind of people have you helped?
We have helped a wide variety of people: individuals and couples - women, men, heterosexuals, lesbian, gay and transsexuals. We have also helped people with varying backgrounds: corporate CEOs, homemakers, university professors, and college students. We have helped people of various ages at all different stages of adulthood. The common denominator in all the people we help is this: they all have a strong commitment to their healing and personal growth and are willing to do whatever it takes to better themselves. We do not work with people who are: suicidal, actively abusing alcohol or drugs, felons, or looking for court-ordered therapy.
4. What kind of issues do you deal with?
We deal with any issues that cause pain and discomfort in the lives of our clients, or keep them feeling stuck. This includes problems with: relationships, stress, anxiety, fears, phobias, depression, sexual problems, codependency, and more.
5. How do I know if therapy is for me?
The best way to determine whether or not therapy is for you is to meet with a therapist. If you have a strong feeling that therapy is a waste of time, cannot help you, or means that you are sick, bad, or crazy, then therapy probably is not for you. If you think therapy might help you, with the right therapist, it will help you. The most important thing is to find the right therapist. For ideas on how to do this, see the question: How do I choose a therapist? Just remember, it's never too soon and never too late for therapy.
6. When will I get better?
No one knows the answer to this question. There are too many variables that will affect your outcome. Typically therapy goes better with regular sessions and when clients do assignments and practice new behaviors between sessions. Many people begin to feel better after only one or two sessions.
---
1. How long are the sessions and how often?
Counseling sessions are typically 50 minutes long. Frequently, clients request double sessions (1hr and 40 minutes) when they are working on something particularly intense. Initially, it is valuable to meet once a week for continuity of care. Sometimes, for reasons of scheduling or finances, clients come less often. It is desirable to make the decision with your therapist about when is the right time to complete therapy.
Coaching sessions start with an intake session that is two hours long. It can be scheduled in two parts on two different days. After that, each coaching session is typically 30 minutes long.
2. How much does it cost?
Fees vary depending on the length of your sessions and whether you are receiving counseling or coaching. Our focus is to provide the highest quality services. The charge is $650/month for four 30 minute coaching sessions and $315 for a 50 minute counseling session. There is no additional charge to see more than one person in a session. As one client said, "I've gotten more out of one session with you than a whole year of therapy with my previous therapist." We accept cash, personal checks, Mastercard and Visa.
3. Do you take insurance?
We accept any insurance that allows you to see an out-of-network provider. Insurance only pays for counseling, not coaching. We submit claims once a month and file all insurance claims for you.
4. What is a session like?
At the beginning of each session, we like to ask, "Where do you want to start today?" and then follow your lead. If you don't know, that's OK. We can offer suggestions about what's important to discuss. Every session is different and offers its own challenges and opportunities. At the end of a session, we want you to use what you have learned and put it into practice. The point of any therapy session is to deal with the issues you have come in to address and get to the root of them, so you can make the necessary changes in beliefs, feelings, attitudes, behaviors. Additionally, we sometimes meet by phone, Skype or Facetime. These sessions are useful when a client is traveling or cannot come to the office because of inclement weather or illness.
---
1. How to choose a therapist?
First, do an Internet search or peruse the yellow pages to see which therapists appeal to you. Trust your gut. Eliminate any therapists that do not seem right even if you can't explain why you are turned off. Think about whether you would prefer to talk with a man or a woman. Even if you have only a slight preference for one gender over the other, go with that preference. Consider the age and experience of various therapists, as well as the issues they treat.
Then call a few therapists. Consider location, schedules, and fees. Ask if they are taking new clients. Tell them what you're looking for and ask if they think they can help you.
What matters most in your initial phone call is whether or not you feel good talking with that person and whether or not you think the person can help you. If you think the therapist may be a good match, make an appointment. You are not signing up for a long-term relationship. Go to a session and at the end decide if you want to make another appointment. If not, make an appointment with another therapist and do the same thing. Choose wisely.
And remember, if you have had a bad experience with a therapist in the past, don't decide that therapy is not for you. Think of it this way—if you had a bad experience at a restaurant, it doesn't mean you will never go to a restaurant again. It just means you'll choose a different one.
2. What are your credentials and experience?
We have helped hundreds of people with many different issues.
30+ years each in private practice
Each has a Ph.D and 10 years experience as a university professor
Judy is a Certified Professional Personal Coach and Master Practitioner Neuro-Linguistic Programming (NLP)
Judy is the author of DYING: Finding Comfort and Guidance in a Story of a Peaceful Passing and the creator of PassingPeacefully.com
Pam has acted as an expert witness for many cases in the State of Colorado
3. What is your success rate?
Our success rate is very high. Many clients come back years later when they have a new issue in their life because they know they'll have success working with us. Read success stories about Relationships, Sexual Problems and Codependency; Stress and Anxiety; Depression and Grief; and Affirming Alternative Lifestyles.
4. How do I know you're the right therapist for me?
Schedule a free telephone consultation. This gives both of us a chance to talk about what you're looking for and find out if we're a match for one another. The phone call usually lasts about 30 minutes. During that time we get an idea of whether or not we can help and it lets you know whether you want to work with us. At the end of the call, if we think we can help you, we ask if you want to schedule an appointment. If you're ready to do so, great. If you're not, that's OK too.